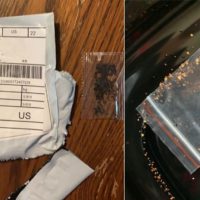 The China seed saga continues as Chinese officials ask for packages from the U.S. to investigate.
In a daily briefing with media, a spokesperson from China's government stated that the state owned China Post,  has contacted the U.S. Postal Service, asking it to send the seed packages to China for investigation.
The spokesperson noted China is a member of the Universal Postal Union, which prohibits plant seeds as imports, or in transit, for member countries. China Post says, for some of the packages, the return address labels "turned out to be fake ones with erroneous layouts and entries," suggesting the origin of the packages is unknown.
Reports of unsolicited seeds showing up in U.S. mailboxes surfaced last week. The Department of Agriculture and several states urge residents to report the packages to state agriculture officials and dispose of the seeds properly. USDA considers the practice agricultural smuggling and is investigating.