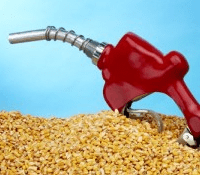 Iowa Republican Senator Joni Ernst is calling on the Environmental Protection Agency to make E15 available at every U.S. gas pump.
Specifically, Ernst calls on EPA Administrator Andrew Wheeler to certify biofuel infrastructure for E15 and remove unnecessary labeling which will increase consumer access to E15.
In a letter to Wheeler, Ernst writes, "You must act now to initiate a rulemaking process and follow through on this agreement to provide certainty to farmers," citing COVID-19 pandemic losses. In May, Ernst led a bipartisan effort urging the Trump Administration to uphold the Renewable Fuel Standard and reject requests for the RFS to be waived.
Ernst is currently pressing the White House to support the biofuels industry through coronavirus relief. The oil industry, expectedly, disagrees. The American Fuel and Petrochemical Manufacturers claim EPA could mandate a full 15 billion gallons with zero small refinery exemptions, and the fuel supply would still only be able to accommodate about 14.3 billion gallons of ethanol.