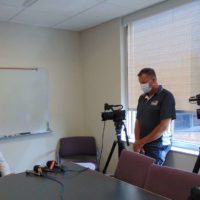 By BRENT MARTIN
St. Joseph Post
A jump in the number of COVID-19 patients at the St. Joseph hospital
has the attention of Mosaic Life Care administrators.
Mosaic Chief Quality Officer Dr. Edward Kammerer points out
coronavirus hospitalizations, already high at 26, jumped to 36 on Tuesday.
"We've really been running 15 to 20, pretty reliably through
the summer. I mean that was pretty much a mainstay. Suddenly, we've had this
kind of bump up," Kammerer tells reporters during a news conference. "This
actually is not that terribly unpredictable, based upon the fact that we had
Labor Day weekend where people tend to conglomerate together again. Also, based
upon the fact that we've had school starting and, of course, we know that we
started to congregate again in general."
Mosaic on Wednesday morning reported a drop in
hospitalizations. There are currently 30 COVID-19 patients being treated at the
St. Joseph hospital.
Mosaic has tested 29,264 area residents with 1,882 testing
positive for the coronavirus. Mosaic is awaiting results from 218 tests.
St. Joseph health officials report 35 new cases of COVID-19 in
Buchanan County, bringing the total county count since the pandemic began to
1,800. Buchanan County reported 28 new cases on Monday after posting 18 new
cases on Sunday and 13 on Saturday.
Buchanan County has recorded 19 coronavirus-related deaths.
Kammerer says Mosaic has the beds and medicine to handle an
increase in hospitalizations, but the higher the number of coronavirus
patients, the more strain on the nursing staff.
"As I've told people before, we've beaten the national average
substantially. We have a less that 1% mortality rate inside of our service area
of the five counties. We've done extraordinarily well," Kammerer says. "But it
requires a lot of nursing care, especially when they're really sick."
Kammerer says a COVID patient normally spends 2o to 50 days in
the hospital.
Kammerer says the hospital has been preparing for an increase in
coronavirus patients.
"We have beds. We have medications. The difficulty will be,
can you staff all that?"
Mosaic has converted the 5th floor of the St.
Joseph hospital into a pandemic ward with negative-pressure rooms. There are an
additional 48 beds no the 4th floor if needed.
"We have the ability to really take care of over 100 patients
at a time with COVID inside of the hospital," according to Kammerer. "The
difficulty is that means you then you have to stop doing something else. Of
course, 90% of the people in the hospital right now don't have COVID."
Kammerer says the increase in hospitalizations comes as area
residents begin to congregate more. He says viral activity goes up as we get
together more.
Andrew County reports 226 total cases of COVID-19 with
Doniphan County, Kansas recording 87 cases.
Missouri health officials report a state total of 105,396,
resulting in 1,732 deaths.
Kansas health officials report 49,899 cases and 534 deaths.