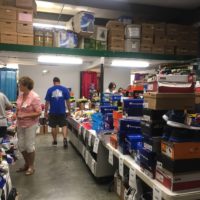 by SARAH THOMACK
St. Joseph Post
AFL-CIO Community Services Agency in St. Joseph announced it is postponing the Soles for Christ shoe distribution which was scheduled to take place next week at the Civic Arena.
The program provides shoes for students in need, but AFL-CIO Executive Director Penny Adams says the rise in COVID-19 cases and a lack of volunteers prompted the postponement.
"We need approximately 100 people over the timespan of the program to operate it and we didn't have near enough folks signed up. Many of our regular folks who actually have participated year after year after year… called us up and said, 'We would love to participate but we have health issues so we're concerned and just can't say we're going to do it this year,'" Adams tells St. Joseph Post. "It's really been heartbreaking for us to have to make this decision, but for their safety and for our volunteers' safety we just had to do it."
The agency plans to work with local school officials to provide shoes to students who have an immediate need.
"We'll try to get the size that they need and get them to the schools or we'll just coordinate with the schools on the delivery," Adams says. "We feel that's probably our safest bet and the teachers see these kids every day so they know the ones that desperately need the shoes right away and really couldn't wait."
Adams adds that the agency will begin holding planning meetings next week on how to proceed this year with the Adopt-A-Family Christmas program.
For more information about any of the AFL-CIO programs, contact the agency at (816) 364-1131.