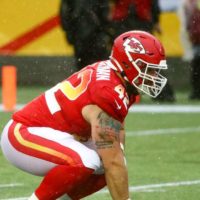 According to multiple reports, Kansas City Chiefs fullback Anthony Sherman has been added to the reserve/COVID-19 list.
ESPN's Adam Schefter cited sources in his report, while the NFL Network said the move was on the league's transaction wire.
Albert Breer of the NFL Network reports Sherman was placed on the reserve/COVID-19 list because he was exposed to someone who tested positive, not because of a positive test. Yahoo Sports reporter Terez A. Paylor also reported the same news.
The Chiefs have yet to confirm the report.
The NFL Network's Tom Pelissero reported that the league has made a major change to the COVID-19 protocols. Pelissero reported anyone with "high risk" close contact exposure to a COVID-19 positive individual must be isolated for at least five days, even if the person is negative and remains asymptomatic.
A major change to the NFL-NFLPA protocols distributed to clubs Monday: Anyone with "high risk" close contact exposure to a COVID-19 positive individual must be isolated for at least 5 days, even if the person is negative and remains asymptomatic. pic.twitter.com/VBYoFAKmWx

— Tom Pelissero (@TomPelissero) October 13, 2020