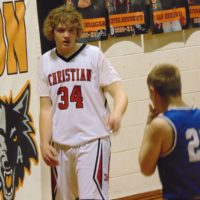 By TOMMY REZAC
St. Joseph Post
FAIRFAX – The St. Joseph Christian boys' basketball team had a streak of bad luck before the Fairfax Invitiational.
After a 6-1 start, the Lions had dropped four straight games entering the week.
Their fortunes have since changed.
After beating North Nodaway by 67 two nights prior, St. Joseph Christian (7-5) advanced to Friday's Fairfax Invitational championship with a 55-41 win over Rock Port on Friday night at Fairfax High School.
The Lions had beaten the Blue Jays earlier this season, 68-50, on Dec. 10.
"It feels pretty good," said Christian's Camden Lutz after. "It's pretty hard to beat a team twice, but we played strong."
Lutz, a junior, finished with a game-high 23 points and drained three 3-pointers. Carson Bowman, also a junior, tallied 14 points. Senior Landon Swavey finished with 15, including nine in the fourth quarter.
Those three combined for 95% of the scoring output. The only other Lion to score was junior Caleb Carlson, who drained a three in the second quarter.
St. Joseph Christian held the lead for practically the entire game, but the Blue Jays had closed the door, trailing 41-36, after starting the 4th quarter on a 4-0 run.
The Lions responded with a 10-0 run, leading 51-36 with about three minutes remaining.
"We were careful with the ball," Lutz said. "Didn't have as many stupid turnovers."
Less turnovers and more steals, and Swavey transition buckets in the final quarter helped St. Joseph Christian put on the finishing touches.
The Fairfax boys' championship game is on Friday night at 8 p.m. The Lions face Falls City, who beat East Atchison 55-46 Wednesday night.
"We just have to practice hard (Thursday)," Lutz said. "Focus up and cut down on the turnovers."
St. Joseph Christian 55 – 14, 11, 16, 14
Rock Port 41 – 8, 7, 17, 9
St. Joseph Christian scorers – Camden Lutz – 23, Landon Swavey – 15, Carson Bowman – 14, Caleb Carlson – 3.
Rock Port scorers – Holden Farmer – 18, Trey Peshek – 8, Aiden Burke – 7, Jagger Freemyer – 5, Bannack Skillen – 3.
You can follow Tommy on Twitter @TommyKFEQ and St. Joseph Post @StJosephPost.