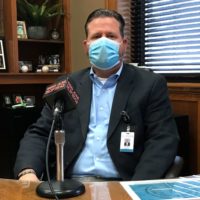 By TOMMY REZAC
St. Joseph Post
In these pandemic times, many people have craved a sense of normalcy in some shape or form.
Perhaps no one more than students, teachers and school administrators, who've been forced to adjust to online learning and virtual curriculum since last spring.
With the spring semester just underway, the St. Joseph School District is ready to safely resume full-time, in-person learning for roughly 11,000 students, starting Thursday. A change that brings excitement, but also apprehension.
"There's still a lot of unknowns for people," said St. Joseph School district superintendent Doug Van Zyl. "There's a lot of what-ifs. That's how it's been since March since we've been dealing with this pandemic. It'll continue to be that way until it's fully resolved.
"But, those of us who are in education all realize that the best educational setting for most of our students is with us in the classroom face-to-face."
The decision to resume to full-time in person learning was made at the School District's last board meeting on Dec. 21. Many factors and data points were closely studied before a final decision was made – primarily students' performance with virtual learning and the case rate of COVID-19 in St. Joseph and Buchanan County.
"The online learning is good for some kids, but not good for all kids," Van Zyl said, echoing concerns of countless districts across the country. "We were hearing more and more concerns and seeing more and more information where students weren't being as successful as were wanting them to be.
"It's not just school districts (struggling with virtual learning). I think it's everyone involved with education, and not just St. Joseph. It's most every school district that is doing some form of virtual or remote learning."
St. Joseph schools are strictly enforcing safety measures so kids can stay in school. The district received just under $2 million from the county to purchase a variety of cleaning supplies and equipment. There'll also be sanitizing stations placed throughout each building.
"But, none of that really trumps anything other than wash your hands, wear your mask and stay home if you're sick," Van Zyl said. "Those are the things we still have to make sure we're doing. And wear your mask correctly."
St. Joseph School District is prepared if one or more schools have to go back to virtual learning, should a COVID outbreak occur. Van Zyl says communication with area health officials remains almost constant.
"(Health coordinator Maria Burnham) is in constant contact on a regular basis, almost daily if not more than daily," Van Zyl said. "I have at least a weekly phone call that involves the leadership of Mosaic Life Care, St. Joseph Health Department, the mayor and the county. We talk numbers and what we're seeing in the community. It's a pretty regular conversation."
Van Zyl summarizes the last 10 or so months as a challenge that's impacted everyone and every phase of life. With a vaccine rolling out, sports and activities underway and more kids getting back in the classroom, there's seemingly a light at the end of this long tunnel.
Even with a renewed sense of hope in 2021, Van Zyl stresses the importance of not letting one's guard down.
"We still have to make sure we're staying home if we're sick, wearing a mask, washing our hands…those types of preventative measures."
You can follow Tommy on Twitter @TommyKFEQ and St. Joseph Post @StJosephPost.