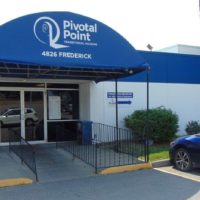 By MATT PIKE
St. Joseph Post
Pivotal Point Transitional Housing has been helping individuals and families in St. Joseph for 10 years.
Case Manager Lisa Robinson says that Pivotal Point provides rent-free housing on an employment basis for 90 days. And while people are there, they receive resources and training to be on their own.
"We try to work with each individual and family to help them pay off debt and create savings, we teach them life skills while they're here with us, anything from how to clean your house well, how to cook the meals for the week, how to take care of a car, all those life skills essentials we need to know as an adult," Robinson tells KFEQ Hotline host Barry Birr.
Robinson says Pivotal Point hopes to help people change.
"In the line of work that we're in, I think we have to believe that people can change, you know that's a big part of our heart is we do believe people can change," Robinson explains.
But in order for people to change, they need to ask themselves some tough questions to know how to replace their bad habits.
"If I'm going to quit smoking for example, what do I replace that with? If I'm going to change the course of my life and change my career or just my living situation, what do I replace that with?" says Robinson.
When Pivotal Point began in St. Joseph in 2011, it was called Hillcrest. It transitioned to the current name in 2018.
The organization will hold a gathering on September 18th at the Word of Life Church to celebrate 10 years of changing lives.