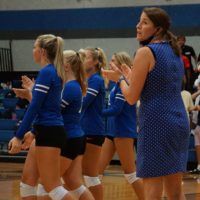 By TOMMY REZAC
St. Joseph Post
Volleyball
St. Joseph Central 3 Benton 1. Full coverage here.
Cameron 3 Lafayette 0. The Dragons are now 8-2.
St. Joseph Christian 3 Mid-Buchanan 1. The Lions improve to 7-1.
St. Michael the Archangel 3 Bishop LeBlond 0
Softball
East Buchanan 14 King City 9
Central 11 Savannah 0 in five innings. The Indians are 10-1 on the season.
Mid-Buchanan 2 Lafayette 0
North Andrew 3 Northeast Nodaway 2
North Platte 14 Stanberry 10. The Panthers are 7-2.
West Platte 14 South Holt 8
South Harrison 15 Plattsburg 0
Pattonsburg 10 Stewartsville/Osborn 3
Missing – Benton vs. Lathrop
Boys soccer
Kearney 2 St. Joseph Central 1
Missing – St. Michael the Archangel vs. Bishop LeBlond
Girls' tennis
Maryville topped Benton 5-4
Missing – LeBlond vs. Lafayette
Girls' golf
Benton's Jaida Cox finished first overall at the Cameron quad Monday. Meanwhile, St. Joseph Central beat Savannah in a dual 169-211.
Cross country
The Bishop LeBlond boys' team finished second at the Indian Run in Tarkio with Mound City coming in first. Keaton Zembles led the way for the Panther boys finishing 2nd, while Johnathan Eckstein finished 6th for LeBlond. Dawson Fanscher of South Holt finished 3rd.
On the girls' side, St. Joseph Christian's Joy Wallick finished first in a field of 21 runners. Full results from the Tarkio Meet here.
You can follow Tommy on Twitter @TommyKFEQ and St. Joseph Post @StJosephPost.