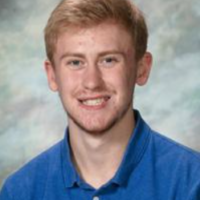 By BRENT MARTIN
St. Joseph Post
Four Central High School seniors have been named 2022 National
Merit Semifinalists.
The St. Joseph School District reports Joshua Donaldson, Adam
Honson, Frederick Rivas-Giorgi, and Blakely Thompson have the opportunity to
continue in the competition for some 7,500 National Merit Scholarships worth
nearly $30 million that will be offered next spring.
The four are among 16,000 semifinalists chosen nationwide.
Several steps remain for the semifinalists as they compete in
the National Merit Scholarship program that honors students who show
exceptional academic ability and promise for success in college. Students
selected don't just show academic rigor, but also are active in the schools and
communities.
The school district provides a brief overview of the students'
activities: Joshua Donaldson – Scholar Bowl, Drama club, French club, Chamber
and Concert choir, DECA and Missouri Boys State; Adam Honson – National Honor
Society, Student Government, Scholar Bowl, JV Basketball and Golf, Marching
Band, Varsity Swim team; Frederick Rivas-Giorgi – Quiz Bowl, Speech &
Debate, Varsity Swim team, Orchestra, Theater and Drama club; Blakely Thompson
– National Honor Society, Student Government, Missouri Scholars, Speech &
Debate, Varsity Basketball, Missouri Boys State.
The National Merit Scholarship Program is highly competitive.
The nationwide pool of semifinalists, representing less than one percent of
U.S. high school seniors, includes the highest-scoring entrants in each state.
National Merit scholars will be announced beginning in April 2022
and concluding in July.