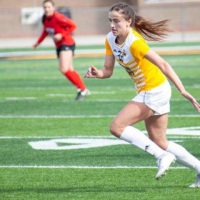 St. Joseph Post
Meeting for the second time in nine days, Missouri Western and Missouri Southern women's soccer finished 90 minutes of regulation deadlocked at 1-1.
The Griffons powered through for a 2-1 win with a 99th-minute rocket from Kaili Campbell at Spratt Stadium on a blustery, warm afternoon.
Missouri Southern caught a huge break in the 27th minute to open the scoring. Banner Williams hit what appeared to be a high cross, and as Griffons' keeper Anna Mayer was coming out to punch it away, the ball got caught in a gust of wind and bounced awkwardly over the Griffons keeper and into the net.
The Griffons came out aggressive to start the second half, dominating the possession early. Campbell nearly found the equalizer in the 47th minute, but her shot was saved by Lilly Doneghue.
In the 53rd minute, Missouri Western tied the score at 1-1, as Campbell found Eszter Toth in the middle of the field, and the transfer striker made easy work of the shot.
In overtime, after a turnover in midfield by Southern, the Griffons played the ball in to the center of the pitch and Campbell was able to poke the ball off the foot of a Missouri Southern defender and turn to face goal.
Campbell eventually struck the ball top-shelf to move Missouri Western to 1-0 in conference action and 4-2-2 overall.
Anna Mayer recorded three saves in the win for the Griffons, with MWSU holding a 9-4 edge in shots-on-goal.
The Griffons return to Spratt Stadium on Friday to host Emporia State. Kickoff is set for 7 p.m.