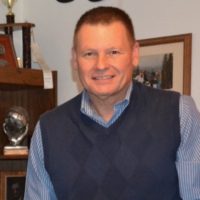 Photo Courtesy of Adams on Agriculture
by Dionne Bertling
Northwest Missouri State University is celebrating Agriculture this week.
As a part of that celebration Mike Adams is going to be doing his show, Adams on Agriculture on location at Northwest's new Agricultural Learning Center on Tuesday, November 16th.
In an interview with KFEQ, Adams says he has been at Northwest in the past and was really impressed by their program.
"I always look forward to going to locations like this and telling the story. I think a lot of times these smaller schools don't always get the attention and people may not be aware of the great work that they do and the great programs they have," Adams says.
"Adams on Agriculture" is broadcast daily on KFEQ from 11 am to Noon.
Adams is excited to come back to talk to everyone at Northwest and is looking forward to being in Northwest Missouri again.
Adams says that when he does his show, he tries to look at what is in the news, and what are the stories that will impact farmers, ranchers and rural america.
He says, "His job is to conduct a conversation, a discussion about the issues, make people aware of what is going on and then let them make their own choices and decisions."
Adams says there have been some tough transitions that agriculture is going through with the Biden Administration.
And while that is true with any new administration, Adams says, "There are some frustrations here when it comes to biofuels, some uncertainty about what is going to happen with taxes, and great concern with what is happening with the supply chain issues."
Adams says the biofuel industry had some frustration with the Trump Administration and that frustration continues with the Biden Administration. He says, "The frustration is that both parties have neglected to follow the law (The Renewable Fuel Standard) and this leaves a lot of uncertainty."