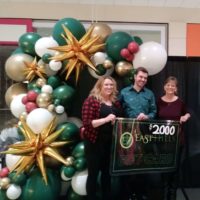 KKJO 105.5 listeners got a chance to vote for the most
talented performers to submit videos to the St. Joseph radio station.
K-JO solicited videos from singers and asked its listeners
to vote for the best. The top three performed at East Hills Shopping Center in
St. Joseph Saturday night after the Christmas tree lighting ceremony.
All three won East Hills gift cards of $2,000, $500, and
$200. All three are from St. Joseph.
The Grand Prize winner was Wyatt Jones, who received the
$2,000 gift card. Nicole Salmond came in second and received the $500 gift card
with Linda Gu coming in third and getting a $200 gift card.