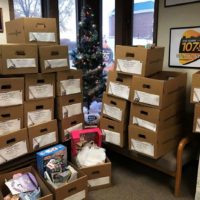 By BRENT MARTIN
St. Joseph Post
An annual toy drive for needy St. Joseph children and youth wraps up its
20th year on Black Friday at East Hills Shopping Center.
Radio personality Gregg Lynn says the Christmas For Kids Toy
Drive is a little behind this year, but he believes it will end strong. Lynn
says he has been organizing the drive to serve children who wouldn't have a
merry Christmas otherwise.
"We had a teenage boy, he was about 15 or 16, and he told us
it was the first time he had ever gotten a Christmas present, ever," Lynn says.
"And after that this was just our mission every year to take care of these
kids. We added kids in foster care the last few years. So, we take care of
wishes for over 100 kids every year."
The toy drive aims to provide presents to more than 100
children and youth, many from the Noyes Home.
JoeTown 107.5 has been collecting presents and money at
sponsor locations throughout St. Joseph since the first of October. Lynn will
wrap up the toy drive at East Hills, broadcasting from six in the morning until
six in the evening, on KESJ, JoeTown 107.5 FM. Donors can buy
presents, give cash, or sponsor a child. Donations benefit the Noyes Home for
Children, St. Joseph children in foster care, the YWCA, and the Adopt a Family Christmas
Program.
Lynn says the toy drive has changed over the years. The high
point, though, is the party thrown at the Knights of Columbus Hall after the
toy drive wraps up.
"One big party. It's going to be the first week of December
and we're going to have all these kids, all the kids from the Noyes Home, all
the kids that are in foster care, all the kids that live at the YWCA shelter,
all at one party with Santa Claus and pizza and games and a choir singing and
that's probably the high point," Lynn says. "They get their gifts. Every kid
gets a box with gifts in it and it's just a ton of fun. From the adult point of view, not a dry eye in
the house."
Lynn says donations have been coming for more than the past
month and you still have time to donate.
"We start the day after Halloween, but it takes a while to
take care of over 100 kids," Lynn says "So, we start a little early and it's
always the last minute, people are rushing around. When they're just now
starting their Christmas shopping, I'm trying to wrap up ours."
You can still donate, either at East Hills on Friday or online
through the Gregg Lynn Radio Show Facebook page or at the JoeTown 107.5 web
page.