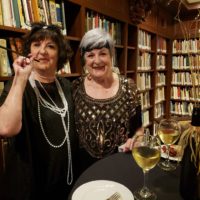 By MATT PIKE
St. Joseph Post
St. Joseph will become Hollywood tomorrow as the Albrecht Kemper Museum of Art invites you to walk the red carpet at the annual Pot of Gold Gala.
The museum is inviting guests to dress like they are going to a movie premiere or as their favorite movie characters to walk the red carpet on Saturday.
Communications Director Jill Carlson says that as you walk the red carpet into the Gala, you'll experience the paparazzi snapping your photos.
"You may end up on page six or you may, you know, have some sort of fun times with all the photographers," Carlson tells KFEQ Hotline host Barry Birr.
Executive Director Eric Fuson says you could be a local celebrity at least
"You'll definitely show up on our website," he adds to Birr.
Fuson says giving people the chance to dress like a movie premiere or as their favorite movie character gives them some flexibility.
"Of saying, you know I don't have to spend a lot of money to come, I can donate, I can have a fantastic meal, great time, and have a chance at some really cool items," Fuson explains. "You know you can buy a flight over St. Joe so you can fly right over the top of your house at this event, so how often can you do that?"
Carlson says Pot of Gold is one of the museum's biggest fundraisers.
"All of the funds that are raised from this event really help us throughout the year, it's not just happening right now, it's really through the 12 months of the year," Carlson explains.
Fuson says most of the funds for the museums exhibitions comes from its supporters.
"That really understand the value of what we do in this community, because if you think about taking some of that away, gosh St. Joe would be a vastly different place, it's amazing just knowing it's there," Fuson says.
The gala will begin at 5pm on Saturday and tickets are still available. You can find more information HERE.