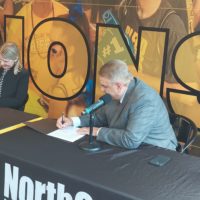 By MATT PIKE
St. Joseph Post
Students from North Central Missouri College will have the opportunity to learn on the campus of Missouri Western State University through a new program.
The two universities signed a dual admission agreement today called the Pirates to Griffons pathway program
Vice President for Student Affairs and Enrollment Melissa Mace says the program will allow full time North Central students to learn part time at Missouri Western, as well as enjoy the benefits of university life.
"Pirates to Griffons pathway students will be able to live on this campus in our residence halls, join student organizations, and attend the athletic events while pursuing their associates degree from NCMC," Mace tells a crowd in Missouri Westerns Eder Hall
Missouri Western President Elizabeth Kennedy says with this agreement St. Joseph area students can have the best of both worlds, pursuing education as a Pirate, while living the life of a Griffon.
Dean of Instruction at North Central Mitch Holder says the Pirates to Griffons Pathway program will help meet the diverse needs of students.
"Through this program students throughout our region can now enjoy the university campus experience offered here at Missouri Western while being able to utilize the A+ Scholarship Program and other affordability measures while enjoying wrap around academic services offered by North Central Missouri College," Holder says.
North Central President Lenny Klaver says the relationship with Missouri Western began many months ago. Klaver says this is a win-win for both schools.