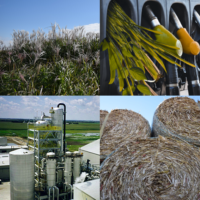 Leaders from the G-7 countries will meet on Sunday, and biofuel mandates will be among the discussion topics.
Officials from Germany, Britain, and other G-7 members will push for temporary waivers on biofuel mandates to combat rapidly rising food prices.
Reuters says the food crisis sparked by the Ukraine war has led to a food versus fuel debate among certain G-7 countries.
Some policymakers are asking to ease mandates for blending biofuels into gasoline and diesel to increase the supply of global grain and vegetable oil.
A British government official told Reuters, "We're quite keen to look at the issue of biofuel mandates to ensure that crops are prioritized for food consumption and not necessarily for use in fuels."
It's not known ahead of the meeting on Sunday if there is enough support to temporarily waive biofuel mandates among the G-7 members. Talks are said to be in the preliminary stages.