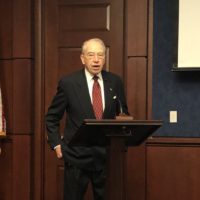 Senator Chuck Grassley of Iowa Tuesday introduced the Biochar Research Network Act.
The Iowa Republican's legislation seeks to study the effectiveness of biochar, which is a carbon-rich material produced from biomass.
Specifically, the bill would establish a national biochar research network to test the impact of biochar across various soil types, application methods and climates to learn more about its capacity to benefit farmers and the environment.
Grassley says, "A lot of work remains to fully understand the benefits biochar could provide, and that's why I'm honored to lead the introduction of the Biochar Research Network Act." The proposed research network would work to understand productive uses for biochar to help with crop production and climate mitigation.
The network would also assess biochar's potential for soil carbon sequestration and deliver cost-effective and practical information to farmers on sustainable biochar production and application. A companion bill was recently introduced in the U.S. House of Representatives.