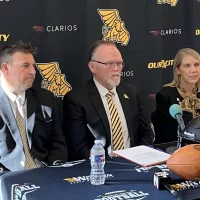 By MATT PIKE/AP
St. Joseph Post
MWSU headed to Texarkana, AR for Live United Bowl on December 2nd
After finishing the 2023 regular season 8-3 and just missing out on the playoffs, the Missouri Western Griffons accepted a bid to play in the Live United Bowl on December 2nd against Southern Arkansas. In case you missed it, read our full story HERE.
Thicker Kicker knocks through game winning field goal to beat Florida
COLUMBIA, Mo. (AP) — Harrison Mevis kicked a 30-yard field goal with five seconds remaining, and Brady Cook completed 20 of 34 passes for 326 yards and a touchdown to help No. 11 Missouri rally past Florida 33-31 on Saturday night.
Cody Schrader carried the ball 23 times for 148 yards and a touchdown, Luther Burden III caught nine passes for 158 yards, and Mevis converted all four of his field goal attempts as Missouri (9-2, 5-2 SEC, No. 9 CFP) narrowly avoided losing to an unranked opponent for the first time this season.
Montrell Johnson Jr. had 12 carries for 85 yards and Trevor Etienne ran 15 times for 82 yards and a touchdown as Florida (5-6, 3-5 SEC) gained 261 yards on 40 carries.
Gators starting quarterback Graham Mertz completed 14 of 21 passes for 183 yards and two touchdowns with an interception before exiting with 2:09 remaining in the third quarter. Mertz left the field holding his collarbone after handing off to Johnson. Mertz appeared to hurt himself initiating contact with Missouri defenders Tre'Vez Johnson and Ennis Rakestraw Jr. on the previous play.
Redshirt freshman Max Brown completed four of five passes for 56 yards in relief of Mertz and gained 42 yards on seven carries.
Trey Smack kicked a 35-yard field goal with 1:35 remaining to give Florida a 31-30 lead.
Etienne scored his second touchdown of the game on a nine-yard run with 7:49 left to cut Missouri's lead to 30-28.
Missouri went up 30-21 with 13:14 to go when Wease hauled in a 77-yard touchdown pass from Cook two plays after Kristian Williams recovered a fumble by Brown as he attempted to hand off to Montrell Johnson Jr. at the Missouri 19-yard line.
Burden hauled in a 48-yard reception from Cook with a seven-yard roughing-the-passer penalty tacked on, but Florida's defense held in the red zone for the third time as Mevis kicked a 25-yard field goal to give Missouri a 23-21 lead with 3:53 remaining in the third quarter.
Florida pulled ahead 21-20 when Ricky Piersall scored on an end around from 38 yards out.
Cook scored from inside Florida's 1-yard line with 8:53 remaining in the third quarter to put Missouri back on top 20-14.
Etienne pulled in a 37-yard touchdown reception with 11:54 to play in the third to push Florida ahead 14-13.
Mevis connected on a 38-yard field goal with 1:49 left in the first half to expand Missouri's lead to 13-10.
Missouri pulled ahead 10-7 after Schrader ran unimpeded for 43 yards into the end zone on the Tigers' second play of the second quarter.
Mertz connected with Eugene Wilson III on a 9-yard touchdown pass to put Florida up 7-3 with 7:49 remaining in the first quarter.
TAKEAWAY
The Tigers struggled at times defensively without senior linebacker Ty'Ron Hopper but leaned on Schrader until Cook started finding his groove in the passing game.
POLL IMPLICATIONS
Missouri could move into the AP Top 10 but will be hard-pressed to move up from ninth in the College Football Playoff ranking.
UP NEXT
Missouri plays at Arkansas on Friday to wrap up the regular season. Kickoff is at 3pm and the game will be aired on CBS.
Kansas State rallies from deficit to get Sunflower Showdown win
LAWRENCE, Kan. (AP) — Kansas State celebrated on the Jayhawk logo at midfield inside Memorial Stadium one more time Saturday night, shortly after the Wildcats extended their Sunshine Showdown winning streak to 15 straight in the final game before the 102-year-old home of rival Kansas begins a massive renovation.
Will Howard threw two touchdown passes and ran for the go-ahead score, and the No. 23 Wildcats capitalized on two special teams blunders, allowing them to overcome an 11-point second-half deficit and escape with a 31-27 victory.
"Resolve. Toughness. Battling for your brothers," Kansas State coach Chris Klieman said. "That was a good football team we beat in a really good environment. We knew we were going to get their best shot and I think we did."
D.J. Giddens added 102 yards rushing and a score for the reigning Big 12 champs, who kept alive their chances of defending the title in part by turning a blocked extra point into a 2-point return and a muffed punt into the go-ahead TD with 10:22 to go.
The Wildcats (8-3, 6-2 Big 12, No. 21 CFP) allowed Kansas (7-4, 4-4 Big 12, No. 25) to march right back down the field, led by former walk-on Cole Ballard at quarterback. But the Jayhawks' drive stalled at the Kansas State 11, and Ballard was picked off in the end zone by Marques Sigle on fourth down to turn the ball over with just more than five minutes left.
Howard and Giddens picked up first downs from there to keep the clock running, and Howard hit Phillip Brooks on third-and-7 with about two minutes to go — the catch near the sideline stood after a review — to wrap up the victory.
"This means a lot being from Kansas," Giddens said long afterward.
Ballard had 162 yards passing with a touchdown and two interceptions for the Jayhawks. Devin Neal, who took plenty of direct snaps to take pressure off the freshman QB, finished with 138 yards rushing and three touchdowns.
"Proud of our guys for battling," Kansas coach Lance Leipold said. "We had some opportunities that we left out there: turned the ball over, had a chance to get a bigger lead and didn't make it happen. Can't do that against ranked football teams."
The latest edition of the fourth-longest played series in the FBS started like many of the previous 14: Kansas State hit on a couple of deep throws, then Howard found Ben Sinnott in the back of the end zone just over a minute into the game.
But that all-too-familiar blowout script quickly went in another direction.
Ballard, starting in place of the injured Jalon Daniels and Jason Bean, led three long touchdown drives that soaked up the first-half clock and kept the Wildcats off the field. Neal finished the first when he slipped out of VJ Payne's tackle and ran 36 yards, then the second with a nine-yard run, before Ballard hit Lawrence Arnold just before halftime for a 20-16 lead.
The lead should have been larger, but the Jayhawks had an extra point blocked by Nate Matlack. The deflection was caught by receiver-turned-cornerback Keenan Garber, who returned it 91 yards for the 2-point conversion.
"That really changed the game," Klieman said.
Kansas opened the second half with Ballard hitting Mason Fairchild for 59 yards and Neal adding his third TD run two plays later. But the Wildcats answered with a long drive of their own, twice converting on third down, opening a lane for Giddens to get into the end zone, and converting the 2-point try to get within 27-24 heading to the fourth quarter.
That's when the Jayhawks' Trevor Wilson fumbled a punt that he was trying to catch on a dead run. The Wildcats took over near midfield, converted a crucial third down and then opened a lane for Howard for the go-ahead score.
Sigle's interception in the end zone and some tough running by Giddens and Howard put the game away.
"There's no words to describe this," said Kansas State offensive lineman Cooper Beebe, a likely first-round pick in next year's NFL draft. "That's a really good team and to finish it off the way we did is just a spectacular feeling."
THE TAKEAWAY
Kansas State simply found a way to win, and that's all that matters with a spot in the Big 12 title game up for grabs. Texas leads at 7-1 in conference play heading into the final weekend with the Wildcats, Oklahoma and Oklahoma State one game back.
Leipold has said repeatedly that his team needs to play the Wildcats tough to turn the Sunflower Showdown into a rivalry again. The Jayhawks did that Saturday night despite playing a former walk-on at quarterback.
UP NEXT
Kansas State wraps its regular season on Saturday against Iowa State. Kickoff time and where the game will air is to be determined.
Kansas visits Cincinnati next Saturday to finish the regular season. Kickoff time is still to be determined but the game will air on ESPN2.
Huskers tie game at end of regulation, fall in OT to Wisconsin
MADISON, Wis. (AP) — Wisconsin first-year coach Luke Fickell said he didn't expect Braelon Allen to play against Nebraska on Saturday night. But the standout running back came up with big runs when they were needed most.
Allen scored the game-winning touchdown on a 3-yard run in overtime to lift Wisconsin to a 24-17 win against the Cornhuskers.
Nebraska's Chubba Purdy threw an interception to Preston Zachman to end the game.
Allen ran for two touchdowns and finished with 62 yards rushing on 22 carries for the Badgers (6-5, 4-4 Big Ten), who snapped a three-game losing streak and are bowl eligible for the 22nd straight season. Only Georgia and Oklahoma have longer active bowl streaks.
Allen suffered a lower left leg injury in the Badgers' loss to then-No. 3 Ohio State on Oct. 28.
"It's been hard on us because you get emotionally tied — all of a sudden he's in there and then he's not," Fickell said. "I just thought I can't have that tonight." Allen sat out a few series to start the game on Saturday, but Fickell said Allen really wanted to play.
"He was kind of chomping at the bit to push us to get him in the ballgame," Fickell said. "That makes me proud of what he did. You know, he didn't feel perfect."
Nebraska (5-6, 3-5 Big Ten) scored on their fourth play of the game on Purdy's 55-yard touchdown run. Purdy extended the lead to 14-0 with a 58-yard touchdown pass to Jaylen Lloyd with 6:01 left in the first quarter.
Purdy, the younger brother of San Francisco 49er quarterback Brock Purdy, got his first start of the season and finished 15-of-23 passing for 169 yards and with 105 yards rushing on 14 carries.
Tanner Mordecai got things going in the right direction for Wisconsin in the second quarter. Mordecai threw a 26-yard touchdown pass to Jackson Acker with 6:37 to go in first half to pull the Badgers to 14-7. Nathanial Vakos' 30-yard field goal made it 14-10.
Besides Allen, Nebraska first-year coach Matt Rhule said Mordecai was a difference maker. "Credit to them, credit to Tanner," Rhule said. "He made the plays at the end." Mordecai was 18-of-28 passing for 160 yards in his second game back from a broken right hand.
Rhule said the Huskers couldn't get things done in extra time.
"Got to overtime, just couldn't get the stop," Rhule said. And then couldn't convert one of those plays at the end. Disappointed for our guys, proud of the effort that they did give. A lot of the things that we've talked about were significantly improved, but it just wasn't quite enough in a close ballgame."
Wisconsin took the lead 17-14 on a 2-yard touchdown run by Allen with 7:47 left in the third quarter. Nebraska's Tristan Alvano kicked a 30-yard field goal to tie the game at 17-all with 4 seconds left in regulation.
THE TAKEAWAY
The Huskers have one more opportunity to become bowl eligible for the first time since 2016. They've lost 10 straight games against Wisconsin and haven't claimed a road game in Madison since 1966.
UP NEXT
Nebraska hosts No. 16 Iowa on Friday to finish the regular season. Kickoff is scheduled for 11am and the game will be aired on CBS.