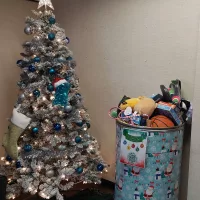 By MATT PIKE
St. Joseph Post
Gregg Lynn's Christmas for Kids Toy Drive is nearing a close as it enters its final week.
And so far, JoeTown 107.5's Gregg Lynn says the toy drive is doing pretty well.
"A lot of the wish lists have been taken care of, there's a few lefts, and then of course when those are done, we still want new, unwrapped toys to make sure we fill the bins over at Adopt-A-Family," Lynn tells KFEQ/St. Joseph Post. "And with the colder weather, a lot of these agencies are going to be taking in more kids over the next week or so and we want to make sure and take care of them as well."
Lynn says currently donations of both money and toys are going well, but there's still always a need for more.
Lynn says as wish lists are being fulfilled currently there are about as many kids as there has been in the past.
"As of right now anyway, about 110 to 115 kids, but that can fluctuate with colder weather so we're ready for that we have money set aside so if any kids come in at the last minute, we can make sure and send somebody out and go shopping and get them taken care of," Lynn says. "Because we want to make sure when all these kids come to our Christmas party on the fifth that everybody has a box of gifts from Santa to be able to open."
It's the 22nd year that Lynn has helped collect and distribute toys. Lynn says to him, it's all about seeing the need.
"And I've always thought, and I've always believed, and I've always been taught if there's a need and you can fill that need, then do it," Lynn explains. "And our family has been blessed, and our kids and our grandkids always get everything they always want for Christmas, but there are kids that don't."
Lynn recalls one of the first toy drives encountering a teenager at the Noyes home who had never had a Christmas tree or even gotten a Christmas present.
"The need is in our community and if you're in a position where you can buy a $10 toy and help fill that need, then I'm begging you to do that and help us out," Lynn pleads.
The toy drive will conclude on Friday with an event running from 6am to 5pm on JoeTown 107.5. This year toys will be collected at the Eagle Communication offices.