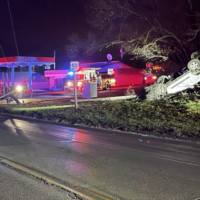 ATCHISON COUNTY —Law enforcement authorities are investigating an accident that shut off electrical power to portions of Atchison.
Just before 2:30a.m. Sunday officers responded to a one vehicle accident at 6th and U.S.59. in Atchison, according to Police Chief Mike Wilson.
A 2005 Nissan SUV owned by a St. Joseph, Missouri resident had been westbound on U.S.59 and was turning south onto 6th Street when the vehicle left the roadway, struck a utility pole and landed on its top.
The driver and two passengers were able to get out of the vehicle before first responders arrived. EMS responded to the scene but no one reported any injuries to be transported for treatment, according to Wilson.
The utility pole and adjoining power lines were down as a result of the accident. Evergy crews were on the scene through the early morning hours to restore power to the area.
Traffic lights remain out until repairs can be made to a utility box. Police reported no additional details.