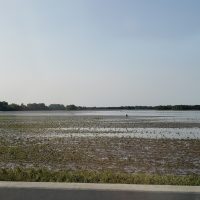 The Farm Service Agency reports farmers were unable to plant a record 19 million acres this year. The recent round of Department of Agriculture reports Monday details the prevented plant acres, which are 17.49 million more than last year.
Of those prevented plant acres, more than 73 percent were in 12 Midwestern states, where heavy rainfall and flooding has prevented many producers from planting mostly corn, soybeans and wheat. The data suggests prevented plant acres total 11.2 million acres for corn and 4.4 million acres for soybeans.
Undersecretary Bill Northey says the results show farmers are "facing significant challenges and tough decisions" this year. USDA supported planting of cover crops on fields where farmers were not able to plant because of their benefits in preventing soil erosion, protecting water quality and boosting soil health.
The report showed producers planted 2.71 million acres of cover crops so far in 2019, compared with 2.14 million acres at this time in 2018 and 1.88 million at this time in 2017.