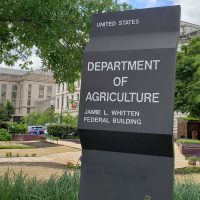 The Department of Agriculture says the Farmers to Families Food Box program has distributed more than 20 million food boxes to families affected by the COVID-19 pandemic.
In the announcement Tuesday, Agriculture Secretary Sonny Perdue stated, "This milestone is a testament that the program is accomplishing what we intended, supporting U.S. farmers and distributors and getting food to those who need it most."
In April, Secretary Perdue announced the food box effort as part of the Coronavirus Food Assistance Program developed to help farmers, ranchers and consumers in response to the COVID-19 national emergency.
In under 30 days, the program contracted for $1.2 billion in food products including $461 million in fresh fruits and vegetables, $317 million in a variety of dairy products, $258 million in meat products and $175 million in a combination box of fresh produce, dairy or meat products. Distribution of the food boxes across the United States began on May 15, 2020.