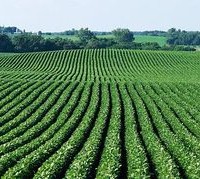 The latest World Ag Supply and Demand Estimates Report shows lower U.S. corn and soybean production in 2020. Corn production is forecast at 14.5 billion bushels, down 215 million from the previous forecasting, and includes a reduction in yield to 175.8 bushels per acre.
With supply dropping and usage increasing, corn ending stocks in 2020-2021 will drop 465 million bushels to 1.7 billion, which would be the lowest on-hand since 2013-2014. The season-average corn price is up 40 cents to $4 a bushel. Soybean production is forecast at 4.17 billion bushels, a 98 million bushel drop on lower yields.
Because of lower production, soybean ending stocks are projected at 190 million bushels, 100 million lower than last month. That would be the lowest level in the past seven years if the projection is realized. The U.S. season-average soybean price for 2020-2021 is forecast at $10.40 a bushel, up 40 cents from the previous month.
The 2020-2021 wheat outlook predicts stable supplies, higher domestic use, unchanged exports, and reduced ending stocks. The projected 2020-2021 ending stocks are reduced by six million bushels, coming in at 877 million, which is 15 percent lower than last year. The season-average farm price for wheat is unchanged at $4.70 a bushel.