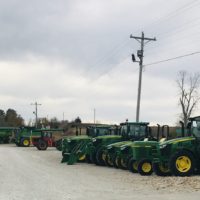 Overall farm tractor unit sales continued to grow across North America in October despite a small pause in the larger unit sales in Canada. The latest data from the Association of Equipment Manufacturers says that total farm tractor sales in the U.S. rose 18 percent in October compared to 2019, while self-propelled combine sales in the U.S. grew almost 15 percent.
Four-wheel-drive unit sales in the U.S. grew for the third straight month in October, up almost 23 percent to 635 units, putting year-to-date segment sales in the black for the first time this year at one percent higher.
Sales of 100-plus horsepower equipment grew 9.7 percent during October, finally bringing the bigger units just into positive territory at .2 percent higher year-to-date. Total year-to-date farm tractors out the door are up 15 percent in 2020, while combine sales are now up 5.5 percent on the year.
"We're glad to see the aggregate North American tractor and combine sales stay above the five-year trend line," says Curt Blades, Senior Vice President of Ag Services at AEM. "These latest numbers, combined with the recent bump in commodity prices, point to the potential for a strong finish to equipment sales in 2020."