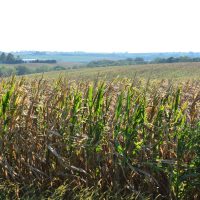 The National Corn Growers Association announced a new partnership with the publication called "Chemical & Engineering News." The goal is to highlight the many uses for corn, including the opportunities in plant-based packaging, chemicals, and nutraceuticals.
The NCGA's Market Development Action Team is funding the effort. "This is a way for us to enter into a conversation with an audience we don't engage with every day," says Market Development Action Team Chair Dan Wesely. "This is one of the many efforts we have in the new-uses space.
Being able to share corn's story, that we are an abundant, affordable, sustainably grown, and versatile crop with this audience is important to future corn demand." CE&N subscribers will get a chance to test their knowledge of corn production and its uses by taking a quiz.
Questions will range from "How much corn does the U.S. produce each year?" to "Which organic acid produced from corn is used in shampoos, conditioners, cosmetics, and pharmaceuticals?"  An infographic will showcase how corn is utilized in several ingredients in items such as packaging and dietary supplements. Chemical & Engineering News is a weekly print and digital publication put out by the American Chemical Society since 1923.